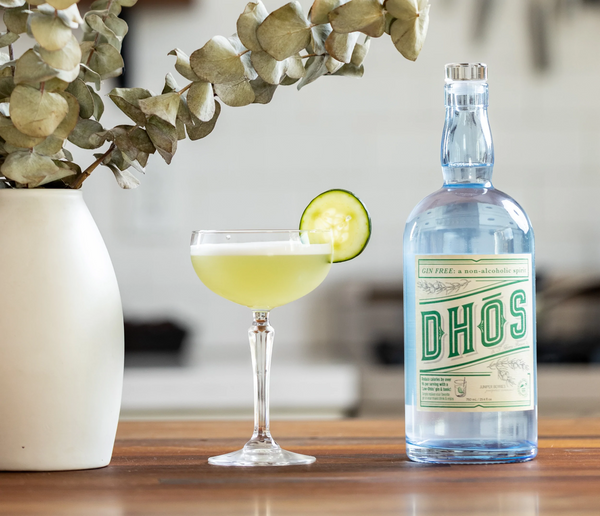 SET FREE
 INGREDIENTS
2 oz Dhōs Gin Free
.75 oz Salted Cucumber Simple Syrup
.75 oz Fresh Lime Juice
Optional: 2 Dash of Dhōs Orange
Garnish: Cucumber Wheel
Glass: Coupe
METHOD 
Combine all ingredients in tin. Add Ice. Shake Vigorously. Double strain into a coupe. Garnish and enjoy!
GARNISH
Cucumber Wheel
How to Make Salted Cucumber Simple Syrup
INGREDIENTS
1 peeled Cucumber
1 cup Sugar
.5 cup Water
tsp Salt
METHOD
Peel 1 Whole Cucumber, Slice Into Coins And Add To The Blender. Add Sugar, Water And Salt To The Blender. Blend On High For 2 Minutes Or Until The Sugar Is Completely Combined. Strain Through A Fine Mesh Strainer To Remove Plant Matter. Keep Chilled And Store In The Fridge.
Experience the perfect balance of sweet and sour with a Peach Gimlet, made with Dhōs Gin Free, peach syrup, lemon juice and bitters, garnished with a thyme sprig and lemon wheel, perfect for any occasion.